PETER MAPLE
[DRAMATURG]
- Mea Culpa & Humanoid -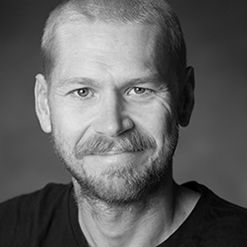 Photo Credit: Peter Maple
Peter Maple is an award-winning writer, actor, producer, director who has worked extensively across all mediums of film, TV, radio, stage, and online. He holds a Bachelor of Performance from Theatre Nepean; and a Masters of Writing from NIDA. Peter is a hard-working, versatile, and enthusiastic collaborator – a brave and professional storyteller.
Recent credits include the 2017 award-winning short film Legacy, as lead actor, writer, director, and producer; the 2016 feature film Dead Sunrise, as lead actor, co-writer, and co-producer; the John Sheedy directed 2016 stage production of German playwright Georg Büchner's Woyzeck at the NIDA Parade Theatre, as actor, dramaturg, and in script adaptation; and the yet-to-be released 2018 explosive sci-fi war extravaganza Shift, as lead actor.
His recent new Australian plays, White Whales (family dysfunction across a generational divide) participated in the Leichhardt Site and Sound Arts Festival, 2017; along with Beast. Belly. Beast. (which delved inside the minds of two ex-soldiers suffering the fractured consequences of PTSD) playing as part the Old 505 Theatre's FreshWorks program, 2018 – directed by Kim Hardwick.
[Back]