Cloé FOURNIER
[ARTISTIC DIRECTOR, PERFORMANCE MAKER & CHOREOGRAPHER]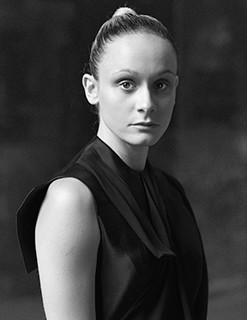 Photo Credit: Pearse Projects
Cloé Fournier is a French-born Australian multi-disciplinary artist currently based in Sydney. Her choreographic approach to work is rooted in dance while spanning across theatre and visual arts. She works as a choreographer, director, movement director, dancer, physical performer, actor and curator.
Her French heritage continuously inspires and influences her work. She acknowledges her culture through language, tradition and a sustained choreographic research on traditional Folk dances.
Cloé graduated from the Conservatoire à Rayonnement Régional de Saint-Etienne in France where she trained in ballet and contemporary dance. She continued her dance studies at the Université Lumières Lyon 2, focusing on the Merce Cunningham Technique.
In 2007, she moved to Australia and kick started her professional artistic career working with some of the most exciting companies, directors and choreographers in Australia and overseas.(See performers bio page)
Her curious mind and hunger for challenge, have driven her to expend her skills by training in aerial dance (harness) and by becoming a Contact Improvisation practitioner. Her new passion for martial arts is also informing her approach to movement allowing her to inject her developing knowledge of judo into her practice.
She creates her own works as a performance maker, a choreographer and a director under the umbrella brand Cloé [F] Projects. She regularly performs as a solo artist and is now expanding her practice into making ensemble group works.
She has choreographed for operas such as Notes from Underground for Sydney Chamber Opera (Carriageworks) directed by Patrick Nolan and acted as a movement director/choreographer for several indie theatre productions working with Michal Imielski (How To Lose Sight – Riverside Theatres), Augusta Supple (A View From Moving Windows - Riverside Theatres and Singled Out - Seymour Centre) and Nick Atkins (Yellow Yellow Sometimes Blue – Q Theatre) amongst others.
Recently, she started working with composers Alon Ilsar and Donna Hewitt to deepen her methodology on the dramaturgy of movement and its implementation in various art forms.
Cloé has also choreographed for the award-winning feature film Dead Sunrise by Michal Imielski (PL/USA) as well as several video clips for singers such as Tina Harrod. She has worked collaboratively with many visual and media artists including Laura Turner, Nadia Ollum, Alexis Teplin (UK/USA), Nasim Nsar (IR/AUS) to name a few.
In 2017/18, Cloé co-founded and co-directed Made In Space Initiative, an artist run pop up space supporting the artistic community with affordable space to research, create, and rehearse in Sydney's inner west.
Cloé also holds a Bachelor of Arts in Applied Foreign Languages. She often brings her background in Languages Studies into her choreographic process giving a unique signature to her dance-theatre universe. She investigates the choreographic potential of spoken words by exploring their dynamics in terms of sounds, rhythm and patterning.
[Back]